Four compelling reasons to choose Nukamel
ONE SPECIALISM
Nukamel specialises in one key area: the development and production of dairy nutritional solutions for the critically important first phase in the life of young animals. The (st)art of growing: that's our motto.
PASSION
To us, nutrition for young animals is more than a field of expertise. It's a passion. We relish being able to bring something different to the world of livestock farming, and we know where we're heading.
PIONEER MENTALITY
Nukamel is a true pioneer in nutrition for young animals. Our solutions are developed today for the livestock farming of tomorrow and have already brought positive changes to farming over decades. We were the first company in the world to introduce milk replacer and nutritional emulsifier, and there are even more industry-first developments coming soon.
LONG TERM COOPERATION
Our approach is highly personal. Each customer and each of their animals is an individual with unique needs. We believe in growing long-term collaborations together with our partners.
Milk Fat Globule Membrane (MFGM)
Milk – but not as you know it 
Milk contributes to the survival and fitness of newborns. MFGM (Milk Fat Globule Membrane), a lipid-containing component of cow's milk, is essentially contributing to neonatal health. Elaborative research, done by Nukamel, converts these benefits of MFGM into clear economical gains in young animal nutrition.
Read articles published in the trade press
Nutritional knowledge
Growth through research
Nukamel has been putting science into products for nearly 70 years. Through our scientific research, we can provide feed mills and farmers with dairy-based nutritional solutions and services that meet the unique needs of young animals.
Optimising animal nutrition at an early stage truly has a lifelong impact. As the genetics of animals advance through development, so do their nutritional needs. While our products help the animals to achieve their full genetical potential, they also enable farmers to improve the efficiency of their production and reduce the environmental impact.
Get to know our experts
Top-quality raw materials
Focus on nutritional value
Milk and dairy products are naturally rich sources of a wide range of essential nutrients, growth factors and bioactive components that all young animals need.
As a dairy specialist, Nukamel selects only top-quality sources. This selection is made based on our profound scientific understanding of the entire dairy production process.
We know that heat treatment of milk components lowers their nutritional value and can destroy their health benefits. We are committed to using only fresh, high-quality, low heat-treated ingredients that are rich in bioactive components.
How to select top-quality dairy based raw materials
Our experts, have the nutritional knowledge
Why these clients choose Nukamel ?
Spray cooling
The heart of our production process is 'spray cooling' – a unique, gentle, and highly controlled processing technique. Years of extensive research shows that spray cooled products ensure better digestibility and performance in young mammals.
Find out more
Tips and tricks
Providing the best possible nutritional solutions for young animals is essential. However, the extent to which the animals reach their genetic potential can also be influenced by other practical elements. You can find out practical information to help optimise your processes through our 'Tips and tricks'.
Watch the Tips & Tricks videos here:
How to mix milk replacer for piglets correctly.
Dairy Outlook | Stay informed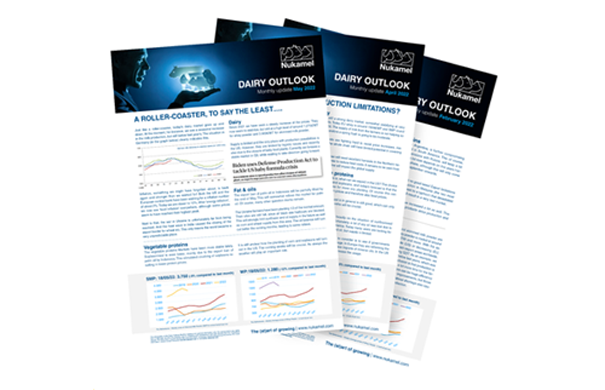 We know where we're going because we continually look ahead
Every month, Nukamel publishes the Dairy Outlook newsletter, with inside information on trends and market developments that influence your daily business. If you would like to receive these monthly updates, please subscribe to the Dairy Outlook. 
Subscribe
Present in more than 65 countries globally
Our brands
Calves

Piglets

Poultry

Lamb & Goat Kids
Join us
You could help us make a difference. We are present in more than 65 countries across the world and dedicated to the art of growing young animals through top quality nutrition. If you are starting or developing your career, find out how you can work with us.
JOB OFFERS